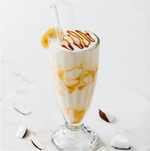 30ml White Rum
30ml Coconut Liqueur
30ml Bon Accord Caramel Syrup
60ml Bon Accord Banana Real Fruit Pulp
1 scoop Bon Accord Vanilla Ice Beverage Powder (or Bon Accord Vegan Vanilla Ice)
1 cup Ice
15ml Water
Add to blender jug. Pulse 2 times. Blend for 60 seconds. Serve in a dressed glass and garnish.