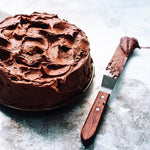 Ingredients:
Cake:
150ml cold
Bon Accord Belgian Hot Chocolate
Frosting:
400g Icing Sugar
Method:
In a bowl, whisk together the wet ingredients (Eggs, Buttermilk, Veg Oil, Vanilla Extract & cold Bon Accord Belgian Hot Chocolate).
In a separate large bowl mix the dry ingredients (Flour, Baking Powder, Salt, Cocoa Powder, Sugar & Bicarbonate Soda).
Now add your mixed dry ingredients to the wet ingredients. Make sure all ingredients are mixed with each other well!
Pour the mixture into the two tins and bake in the oven for 35-40 minutes (can take a little longer in some ovens) once baked leave to cool in the tin and remove afterwards, or leave for 10-15 minutes and cool on a wire rack for a softer cake.
Make sure your butter is at room temperature. Beat your butter on its own for about a minute, to loosen it up. Add in the Icing Sugar gradually. Then, add in the Cocoa Powder, beating in fully.
Place your first sponge on a plate or cake board and spread on half of the frosting. Add the second cake on top and pipe or spread on the rest of the frosting.