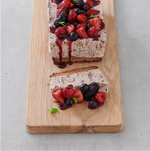 An amazingly light, creamy cheesecake recipe with a crunchy biscuit base, best accompanied by your favourite Bon Accord Summer Berry Real Fruit Pulp.
Ingredients:
• 1 packet of plain biscuits, crushed in your food processor
• 70g butter, melted
• 5 tbsp Bon Accord Summer Berry Real Fruit Pulp of your choice
• 100g dark chocolate, finely chopped
• 400g cream cheese, softened
• 1/2 cup icing sugar, sifted
• 1 tsp pure vanilla extract
• 1 cup (250ml) cream
Base:
• Preheat oven to 160°C
• Grease a 12x22cm rectangular loaf tin and then line base and two long sides of the loaf tin with baking paper. Leave enough hanging out to use as handles to remove.
• Place crushed biscuits in a bowl and add melted butter. Stir well until thoroughly combined.
• Spread mixture out evenly into prepared tin, pressing firmly with your fingertips or the back of a metal spoon to form an even base.
• Place in the oven and bake until base is set and golden, approx. 15-20 minutes.
• Set aside until cool.
Filling:
• In bowl of a stand mixer, place cream cheese, icing sugar and vanilla and beat on high speed until smooth (if you don't have a stand mixer, place everything in a large bowl and use an electric beater).
• Reduce speed to low and gradually add the finely chopped chocolate. Beat until it is evenly distributed but don't over-mix sothat your entire mixture turns brown. Stir in Bon Accord Summer Berry Real Fruit Pulp until combined.
• In a separate mixing bowl, beat cream to stiff peaks (being careful not to over-beat). Fold cream into the cream cheese and chocolate mixture and then pour mixture over the cooled base.
• Cover and chill in the gridge for at least 3 hours or overnight.
• Carefully lift out of the tray using the baking paper flaps and remove the paper from the sides and base.
• Transfer to a serving plate and decorate by adding fresh fruit mixed with Bon Accord Summer Berry Real Fruit Pulp. To cut, heat your knife under hot water and then slice.